Stage Three Announcement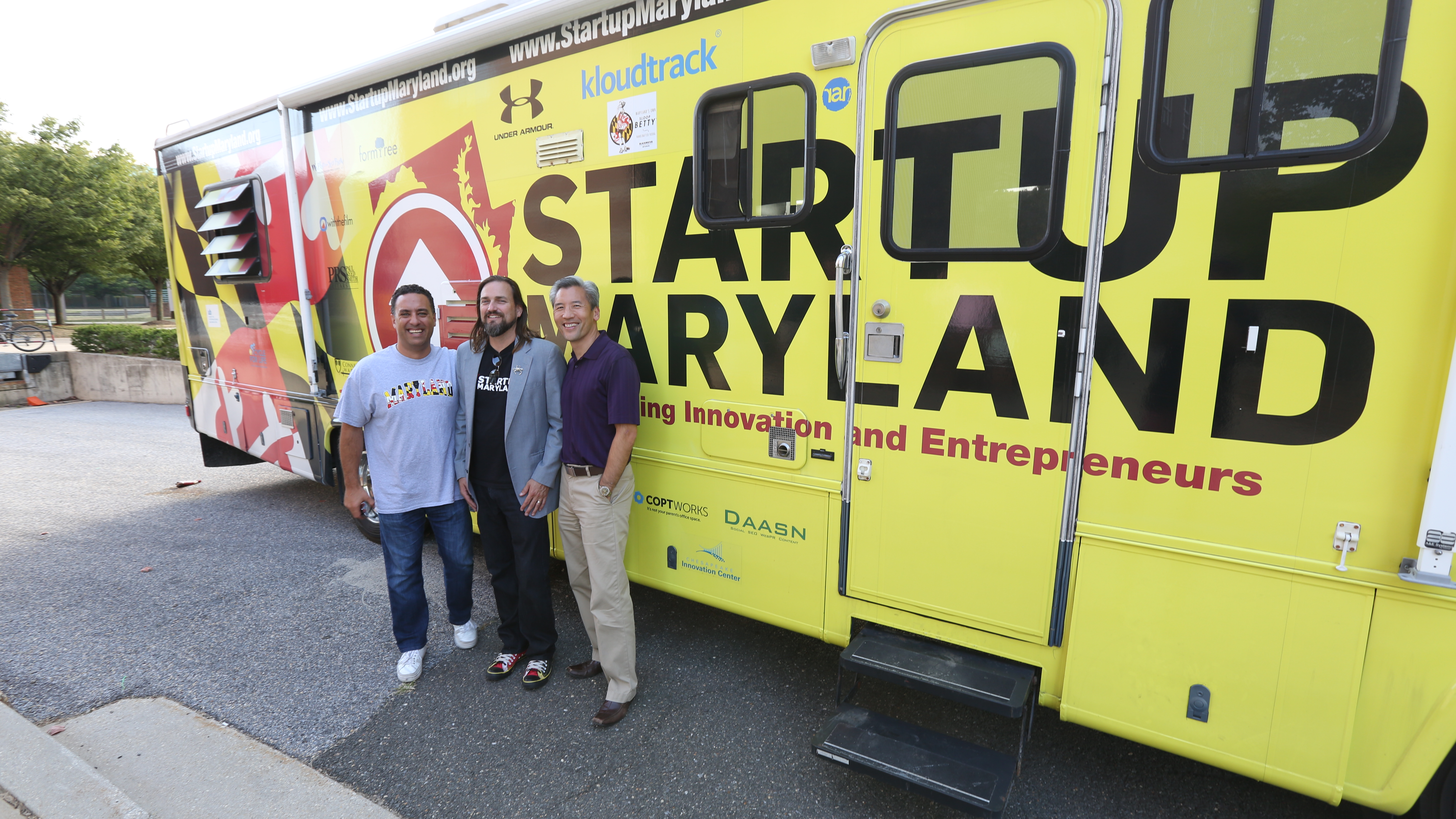 Startup Maryland™ Announces Stage Three of the 2017  STRT1UP Roadshow and Pitch Across Maryland Tour
Collaborative Spirit and the Ecosystem Model for
Economic and Venture Development Take Center Stage
August 23, 2017 - Startup Maryland today announced initial dates and route details for Stage Three of the STRT1UP Roadshow, the state-wide tour and celebration of entrepreneurship and high-growth innovative startup ventures.  After Stage Three wraps in November (period from Labor Day through Thanksgiving) the entrepreneur pitch videos will be rendered, edited and posted online for the Pitch Across Maryland competition(s). The Roadshow culminates with the STRT1UP Showcase event in early 2018 (Showcase details to be announced closer to the end of the Roadshow).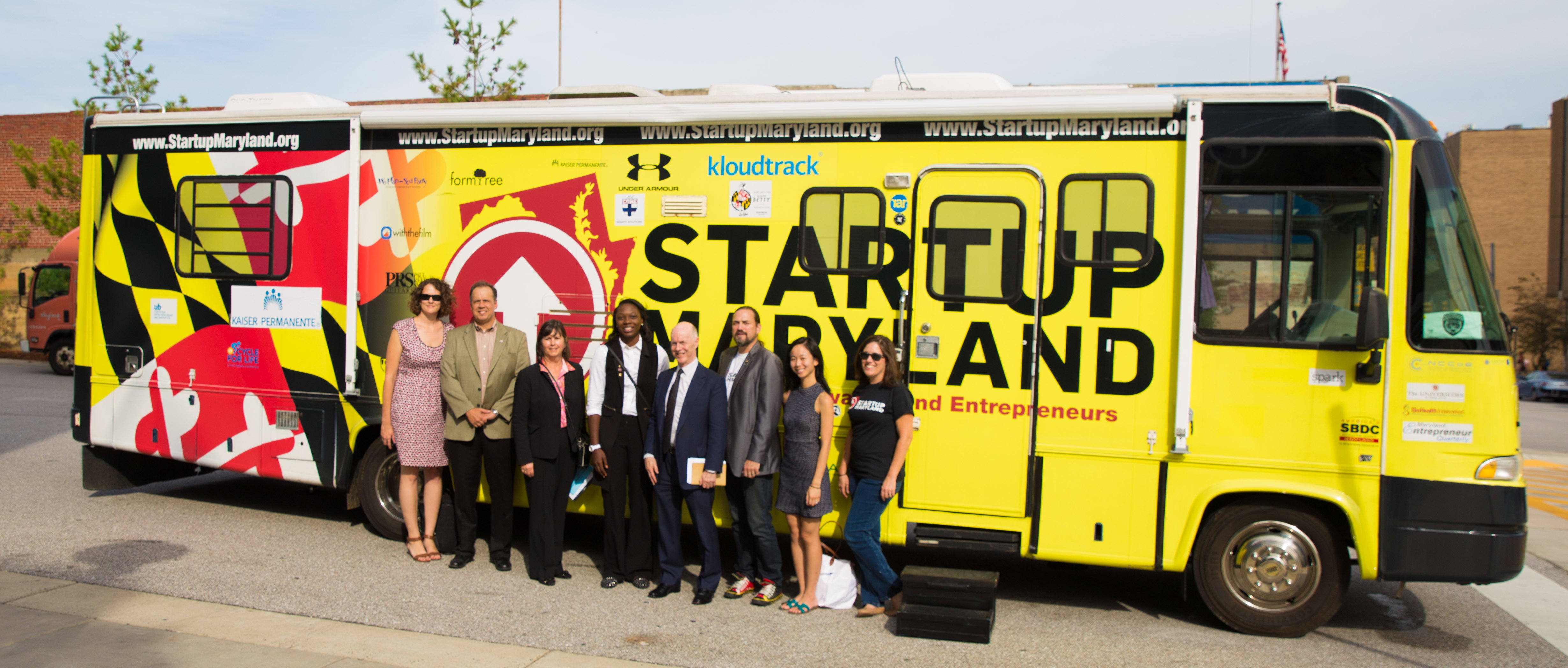 The STRT1UP Roadshow Stage Three will kick-off on the afternoon of September 12 with several Roadshow tour stops in Frederick County and downtown Frederick City. The STRT1UP Roadshow celebrates all things innovation and entrepreneurship in greater Frederick as our team tours life science/bio companies, new wave manufacturing, brewing/distilling and cyber. Sponsor BBS will host a discussion on "Benefits in Uncertain Times" before the day culminates in a celebration of Cyber Security in partnership with the CyberSecurity Association of Maryland (CAMI) at their Frederick Cyber Capabilities Exchange.  Serendipity Market will be the venue for this happy hour+pitch convening.
| | |
| --- | --- |
| "The Frederick tour day is a perfect example of how we like to see tour stops come together. A celebration of the work+life balance of a region while highlighting the unique diversity of industries only Maryland can support," stated Michael Binko, Founder | CEO, Startup Maryland. "Working closely with both county and city leaders while bringing them together with ecosystem partners from key industries, the STRT1UP Roadshow drives collaboration which is a main tenet of the Ecosystem Model Startup Maryland has forged over the past five years," added Binko. |
Startup Maryland is also excited to welcome several new industry leaders as Ecosystem Sponsor-Partners this year. These organizations are making a decisive impact on the Startup Maryland Ecosystem Model by celebrating and supporting emerging companies.  One of the best examples is Strategic Factory.  While Strategic Factory has already been a trusted service provider for Startup Maryland in previous years, the company stepped up in 2017 to sponsor and host a Tour Stop on September 14th from 3:30-8:30pm as part of their "Together We Rock!" Annual Open House event.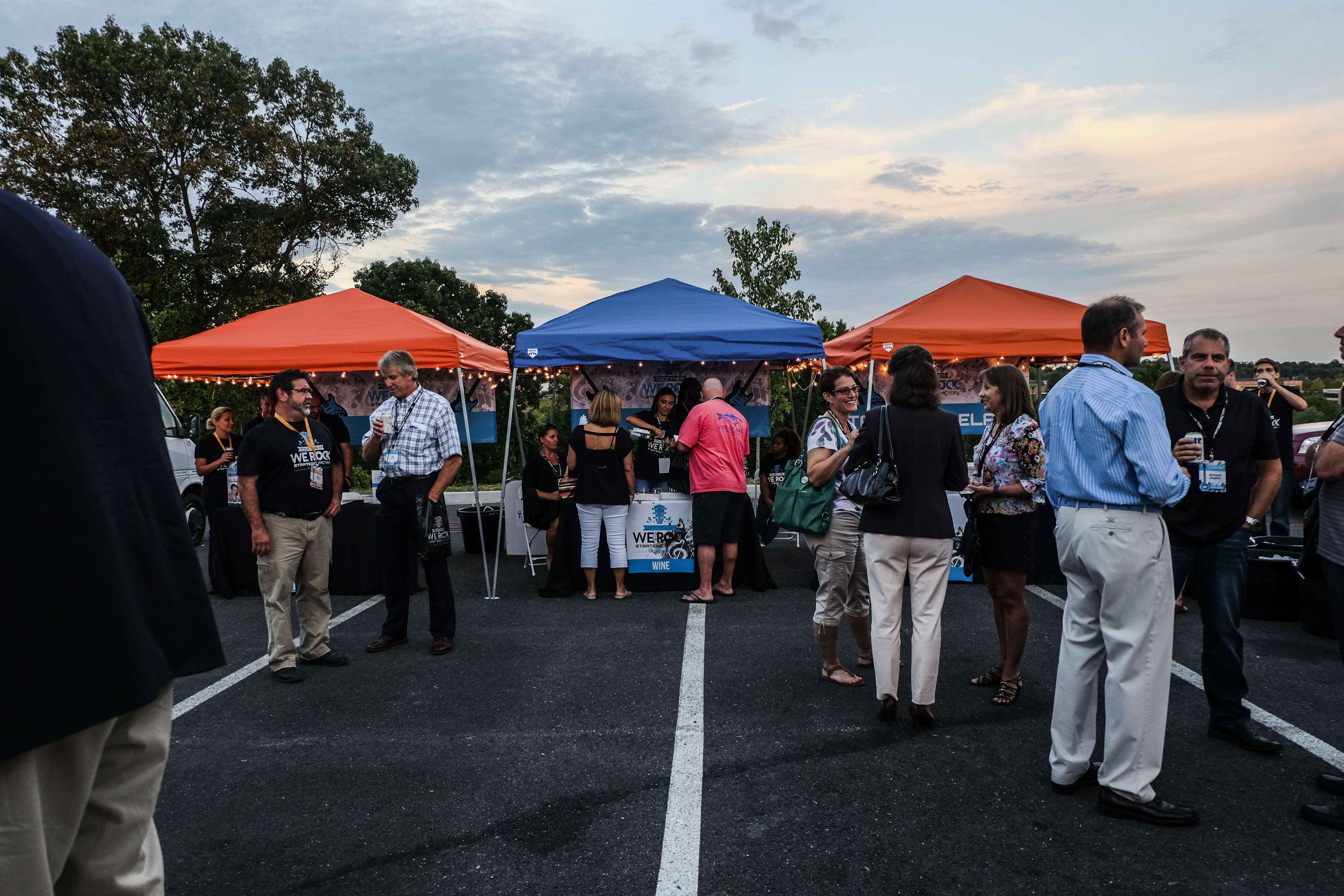 Giving entrepreneur / founders and early stage ventures a chance to network with great sponsor-partners and to see first-hand how their services address critical needs is also a strong component of the Startup Maryland Ecosystem Model. Registration Link.  If you have not toured the Strategic Factory HQ, it is a not-to-be-missed happening!
Still Time to Join the Celebration
Limited dates in September, October and November are filling fast.  Ecosystem Partners and Sponsors interested in learning more about how the STRT1UP Roadshow supports economic/workforce/venture development, marketing awareness/branding and community engagement efforts are encouraged to contact Startup Maryland Ecosystem Director, Mike Venezia @ mvenezia@startupmd.org
As a reminder, approximately 10-15 Pitch Across Maryland video pitch slots are available for each tour stop – so space is limited. Registration for the Pitch Across Maryland competition is required to participate and to receive the free video after the competition. The registration link can be found here: Pitch Registration Link
Below Find a Snapshot of Additional Confirmed STRT1UP Roadshow Stage 3 Stops:
September 12: Frederick County+City / BBS / CAMI Meetup
September 14: Strategic Factory Open House and "We Rock" Celebration
September 19: BBB Baltimore Centennial Celebration Event
September 26: University of Baltimore Block Party
September 29 - October 7: Baltimore Innovation Week (Numerous Stops)
October 5: Harford County Shark Tank Pitch Event
October 10: Maryland Cyber Day
October 11-12: CyberMaryland Conference
October 25: TEDCO Entrepreneur Expo
October 26: Dorchester / Cambridge / Oysters / Cannabusiness
October 27: Salisbury University / Quad-Party
Startup Maryland looks forward to continuing to celebrate Maryland as one of the strongest entrepreneurial ecosystems in the country.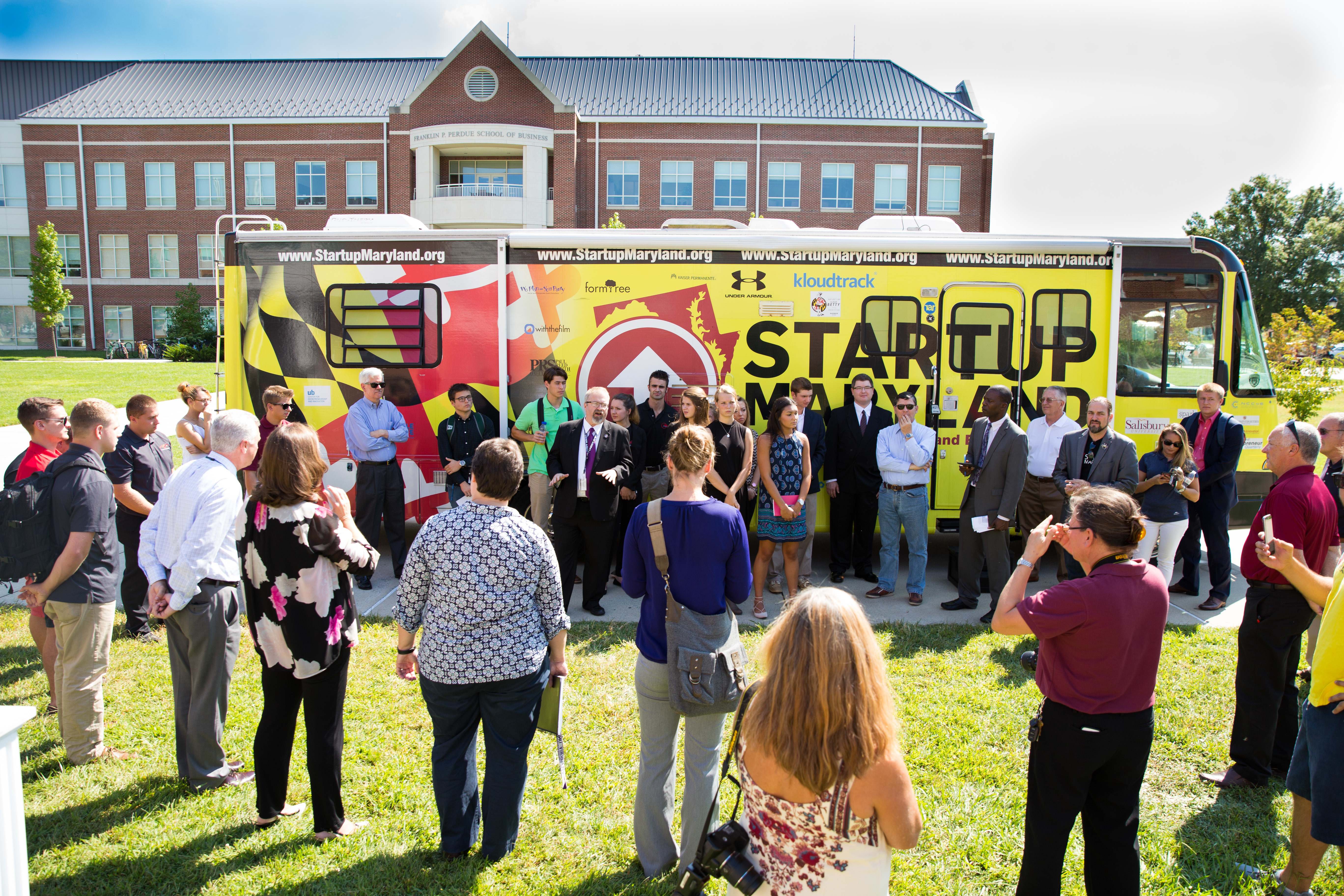 A Sampling of Details, Key Data and Results from the STRT1UP Roadshow Follow:
More than 1,500 Startup Maryland emerging companies engaged to-date
38 tour stops in 2016; 42 in 2015 w/Rise of the Rest; 35 in 2014; 32 in 2013; 25 in 2012
The Pitch Across Maryland Competition is composed of four categories of recognition
Great Eight / Overall Winner
Fan Favorite
Champions' Choice
Industry Innovators (CyberSecurity, Manufacturing, Social Breakthrough and Rural Innovations)
2016 Pitch Across Maryland video playlists can be found here: https://www.youtube.com/user/StartupMaryland/playlists?sort=dd&view=1
Startup Maryland teamed with Spark Baltimore to host the national Startup Champions Network Fall Summit in Baltimore during the 2016 tour convening leading national ecosystem builders around the theme of Inclusive Entrepreneurship
More than 75 "Rock Star" roadshow sponsors/partners including (universities, economic development agencies, angel/VC investors, incubators/accelerators, affinity brand sponsors, service providers)
Months of media coverage and press impressions; ad-rate value over $3 million
Startup Maryland and WithTheFilm unveiled a documentary film entitled STRT1UP: Venturing Through the Land of Pleasant Living about the Roadshow during the Santa Barbara (CA) Film Festivals in partnership with Startup California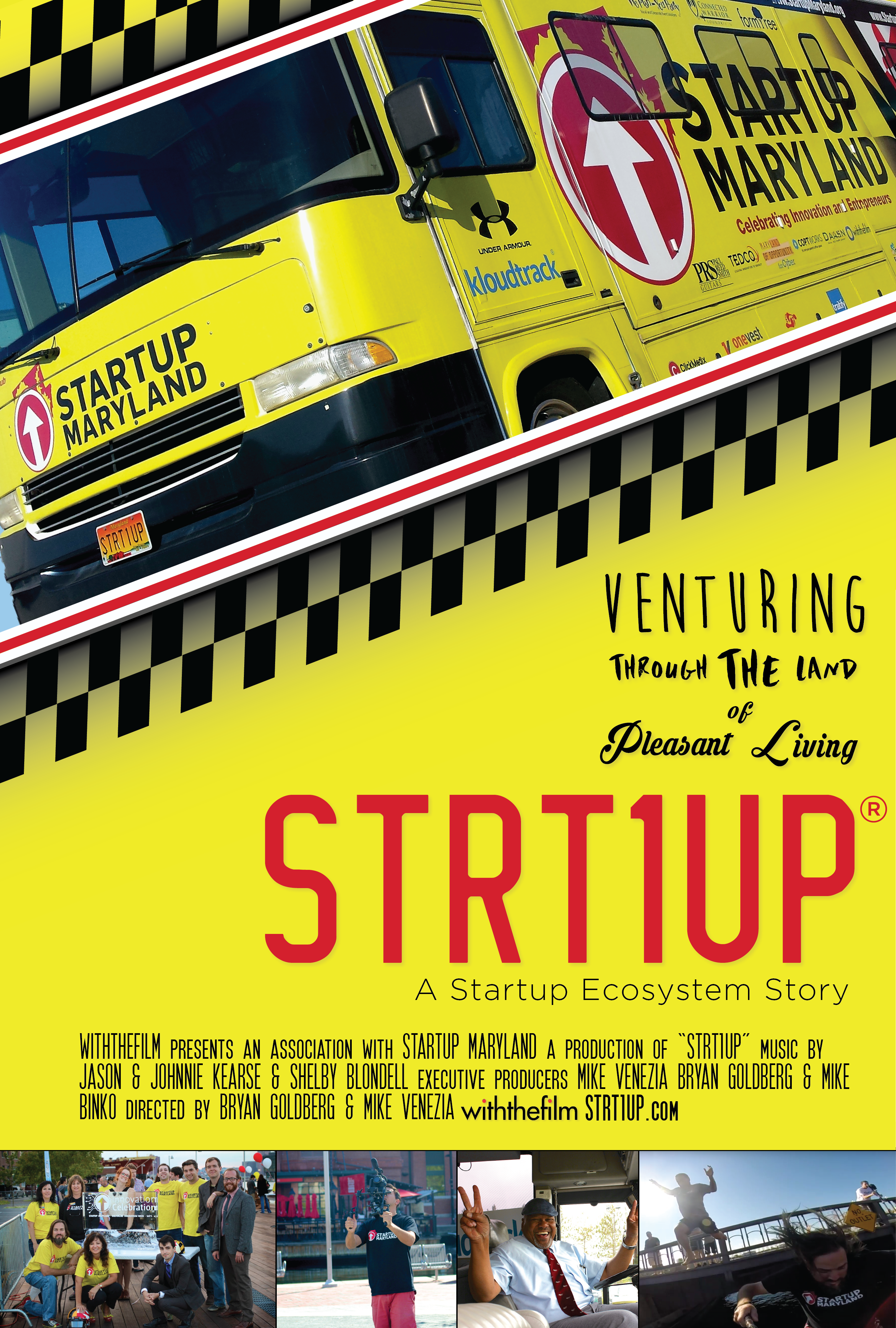 Startup Maryland was asked by other national startup ecosystem builders to discuss how the STRT1UP Roadshow helps cultivate strong startup communities sharing details at the SCN Spring Summit in Santa Barbara, CA
For more information see scheduled STRT1UP Roadshow tour dates and tentative route locations below or visit http://www.startupmd.org for regular updates.