Startup Maryland Completes 2016 STRT1UP® Road Show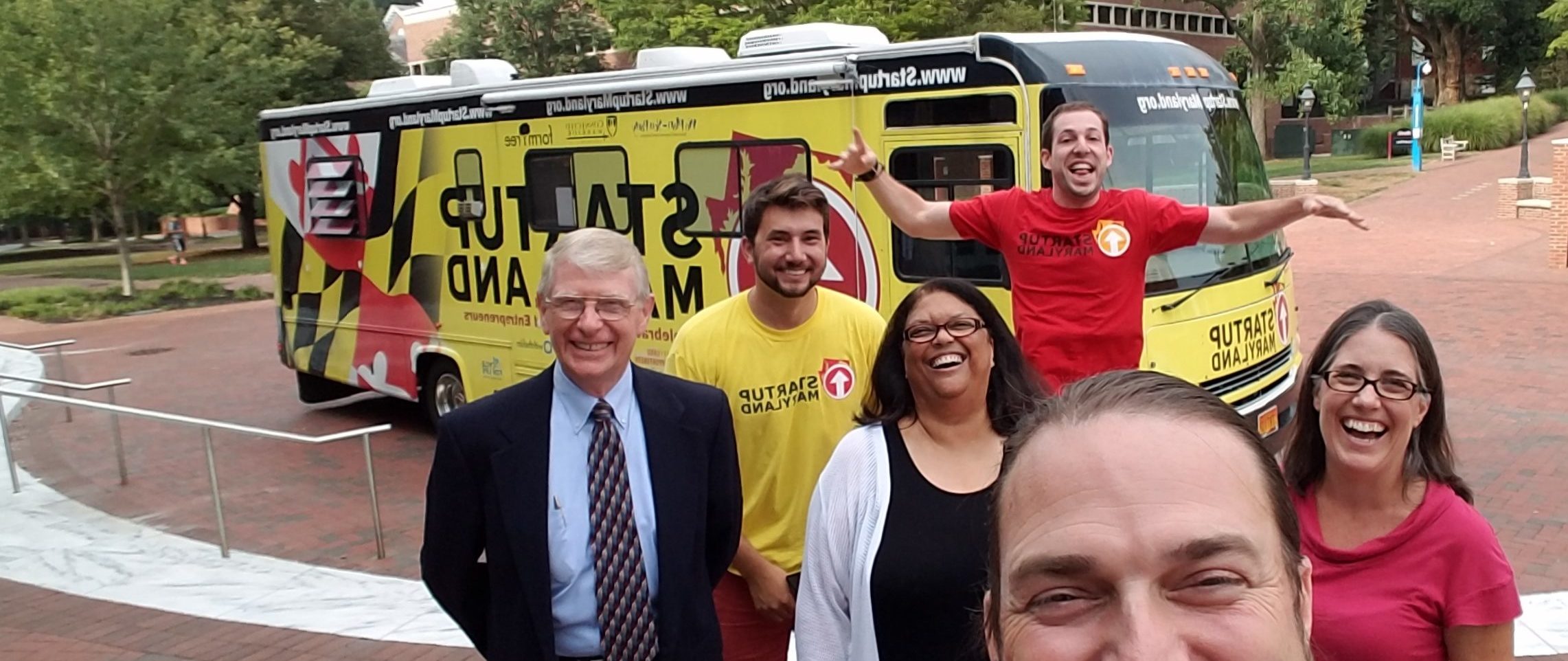 Teams of Ecosystem Stakeholders Co-Hosted Tour Stops in Celebration of Innovation and Entrepreneurship
All Points, Maryland – Startup Maryland announced completion of the STRT1UP Road Show and the Pitch Across Maryland competition — the fifth annual state-wide tour and celebration of entrepreneurship and high-growth innovation-centric startup companies.
The STRT1UP Road Show again traversed the state all in the name of celebrating Maryland's diverse ecosystem of venture building.  A sampling of details, key data and results from previous tours follow:
More than 1,200 Startup Maryland companies; 800+ participated in tour events from 2012 to 2016; 168 startups "pitched" in 2012, 161 in 2013, 170 in 2014, 165 in 2015 and 135 in 2016
42 tour stops in 2015; 35 in 2014; 32 in 2013; 25 in 2012
More than 75 "Rock Star" tour sponsors/partners including (universities, economic development agencies, angel/VC investors, incubators/accelerators, affinity brand owners, sponsors)
Months of media coverage; more than 1 million press impressions; ad-rate value over $5 million
Video Pitch Competition winnowed field to Top 3 Fan Favorites and 8 Finalists as Best Candidates for Venture Investment
Startup Maryland and WithTheFilm released a documentary film about the _STRT1UP Road Show _at the Santa Barbara (CA) Film Festival
Startup Maryland was asked by other national startup ecosystem builders to discuss how the STRT1UP Road Show helps cultivate strong startup communities
"Maryland and the broader Mid-Atlantic is clearly winning with regards to workforce talent, entrepreneur hustle and the assembly of resources needed to support high-growth ventures – we call this ecosystem," stated Michael Binko, Founder/CEO of Startup Maryland.  "The broad base of industry sectors owned credibly by Maryland is all but unmatched.  From rural innovations, health/wellness, edtech and life sciences/bio, to cloud computing, cyber-security, creative/arts, clean energy, manufacturing, sustainability, to autonomous systems and the Internet-of-Things (IoT), Maryland entrepreneurs are breeding ventures that disrupt a wide array of industries.  The STRT1UP Road Show proudly shines a spotlight on the diversity of our innovation categories and the ecosystem supporting them."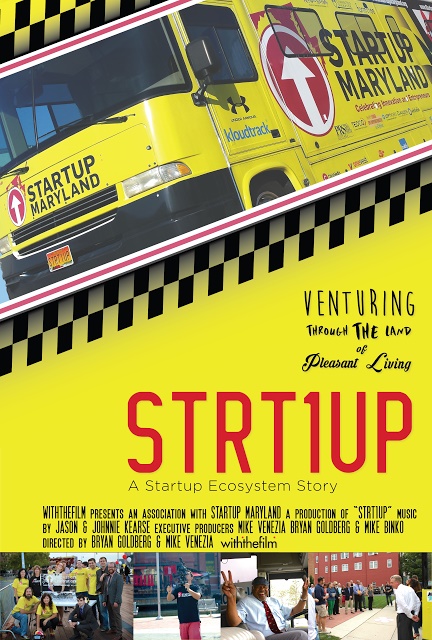 At each STRT1UP Road Show tour stop, Tour Partners/Sponsors host rallies sharing information about their entrepreneurial ecosystems across the state.  Entrepreneurs are provided coaching, guidance and support from business mentors and other leaders from academia, incubators/accelerators, economic development agencies, service providers as well as active angel/VC investors.
As the tour unfolds, entrepreneurs climb onto the Startup Maryland bus and pitch their idea/business in the mobile UpStart Show™ video studio.  Videos are uploaded to the Startup Maryland YouTube® Channel and then open to public viewing/voting.  This aspect of the STRT1UP Road Show embodies the Pitch Across Maryland competition allowing the entrepreneurs, sponsors, investors and tour hosts to activate social networks for even broader awareness and celebration.
For more information see past STRT1UP Road Show tour locations  and keep an eye open for 2017 route locations.  Visit http://www.startupmd.org for regular updates:
 WHEN/WHERE DID THE ROAD SHOW TAKE PLACE? (2016)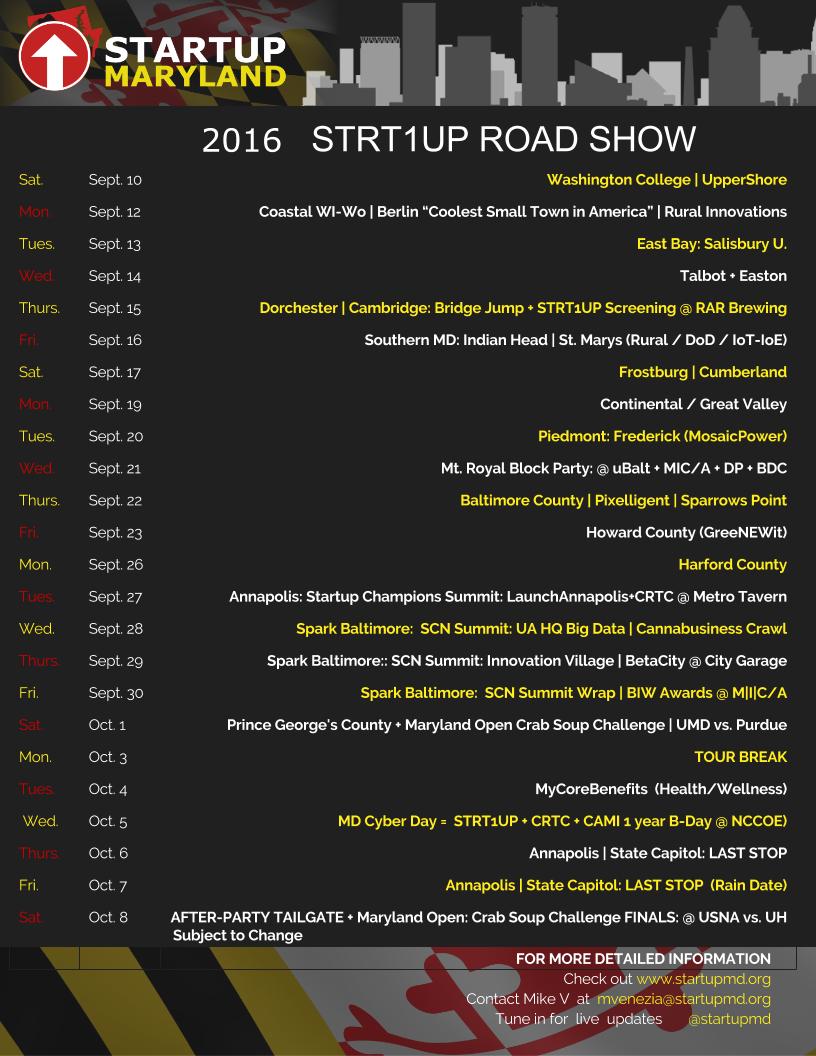 About Startup Maryland:
Startup Maryland (www.startupmd.org) is an ecosystem and venture development initiative driven from within the community of innovation-centric entrepreneurs.  Forged with Maryland Pride By Entrepreneurs … For Entrepreneurs, Startup Maryland strives to remain nimble and inclusive.  Startup Maryland works to connect innovation communities and rallies entrepreneurs, supporters and other innovation stakeholders around four main initiatives: Celebration, Coaching, Curation and Capital while also bringing together entrepreneurs in a community of support to drive greater social as well as economic outcomes.
# # #