Startup Maryland Announces Fan Favorites for Pitch Across Maryland Tour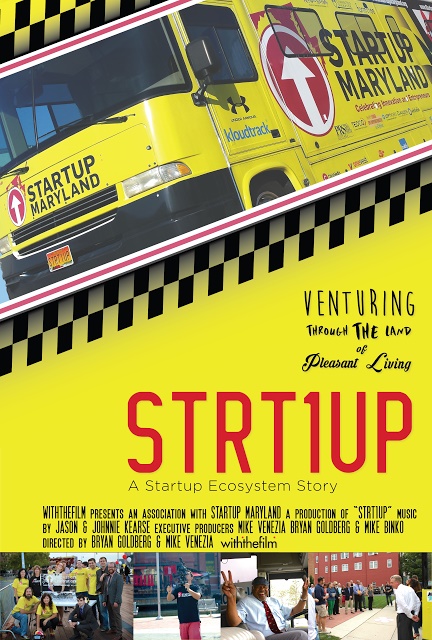 Fourth Annual State-Wide Tour and Celebration of Innovation and Entrepreneurship Reveals Strong Startup Ecosystems in Wide Variety of Industry Sectors
NOVEMBER 6, 2015 – EVERYWHERE, MD – Startup Maryland () today announces the Fan Favorites in two categories for the 2015 _Pitch Across Maryland_ tour and celebration of innovation and entrepreneurship.
After posting nearly 150 video pitches from Maryland entrepreneurs that were captured during the three-week Pitch Across Maryland tour / celebration, Startup Maryland is proud this year to announce two categories of Fan Favorites — Most Viewed and Most Social.
"This year the activity around the Startup Maryland pitch videos has been stellar," stated Michael Binko, founder and CEO of Startup Maryland. "Interest from investors, media and service providers in the Pitch Across Maryland demonstrates how vibrant our innovation ecosystem is and the engagement of these communities by our pitch entrepreneurs is the spirit celebrated by our Fan Favorite designations."
While in the past the Fan Favorite traditionally highlighted the top three Most Viewed videos, this year the Startup Maryland team decided to also highlight the startups that demonstrated consistent social engagement throughout the month since the tour concluded. The startups that embodied these efforts and outcomes are listed below with a link to their pitch video:
Fan Favorites – Most Viewed:
Kitchology Inc.
Elizarov Consulting
Innovation Nation Institute
Fan Favorites – Most Social:
The Adventures of Louie the City Squirrel
Loople Mobile LLC
CAARMO Inc.
The Fan Favorite portion of the competition is a fun activity that Startup Maryland added as a component of the Pitch Across Maryland to keep the awareness and celebration aspects of the tour at a high level.
A second competition, which will continue this year until noon on November 11, determines the Great Eight Finalists. The eight (8) finalist companies will receive invitations to the annual TEDCO Entrepreneur Expo held on November 17.
At the Entrepreneur Expo, the Great Eight Finalists will be given the opportunity to present a more comprehensive 'pitch' of their venture and opportunity. Building on their shorter Pitch Across Maryland video, the Entrepreneur Expo Great Eight Finalist pitches will be longer and afford the entrepreneurs a chance to share more detail about their venture/opportunity with ecosystem builders including investors, potential employees, incubators/accelerator teams and economic development officers.
"Finalists will present their business plans to the full community of conference attendees and another panel of investor/entrepreneur experts will then select and announce the Pitch Across Maryland Winner and a Runner-up live at the Expo," added Binko.
Separately, TEDCO will select up to two of the Finalists to be catapulted directly to a Technology Commercialization Fund or Cybersecurity Innovation Fund $100,000 investment pitch.  These selected Finalists will have to submit a TEDCO-compliant application for evaluation.
Members of the media are being directed to all Video Playlists to learn more about the innovations and entrepreneurs building great companies in Maryland and across the broader Mid-Atlantic region. The link to all Pitch Across Maryland playlists follows here:
https://www.youtube.com/user/StartupMaryland/playlists?sort=dd&view=1
About Startup Maryland
Startup Maryland (www.startupmd.org) is a venture and community development initiative launched out of the Startup America Partnership. Driven from within the community and Forged with Maryland Pride By Entrepreneurs … For Entrepreneurs, Startup Maryland strives to remain nimble and inclusive. Startup Maryland works to connect innovation communities and rallies entrepreneurs, supporters and other innovation stakeholders around four main initiatives: Connection, Celebration, Coaching, and Capital while also bringing together entrepreneurs in a community of support to drive greater social as well as economic outcomes.
About the Maryland Technology Development Corporation (TEDCO)
TEDCO is the go-to source for entrepreneurial support and guidance for start-ups and early-stage companies engaged in bringing innovative ideas to market. For more than a decade, the organization has provided funding, mentoring and networking opportunities to support Maryland's innovation ecosystem. While founded by the Maryland General Assembly, TEDCO is an independent entity that makes seed/early-stage investments and manages private capital for angel and venture capital funds. It is frequently ranked as one of the most active seed/early-stage investors in the nation. The organization plays a key role in bringing research created in Maryland's educational institutions and federal laboratories into the commercial marketplace. For more information on TEDCO and its programs and resources, visit www.TEDCO.md .
# # #