STRT1UP Roadshow Premier Sponsor: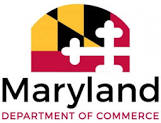 RMI's 2018 Champions of Maryland Manufacturing Gala Dinner
November 29, 6:00 – 9:00 p.m. at Martin's West, Baltimore County
Black Tie Optional
On Nov. 29, the Regional Manufacturing Institute of Maryland (RMI) will honor the 2018 Champions of Maryland Manufacturing at an elegant evening gala dinner at Martin's West in Baltimore County, 6-9 p.m.
This event is one of Maryland's most meaningful evenings, highlighting extraordinary successes and celebrating our community spirit.  Recognizing the top Champions of Maryland Manufacturing is an initiative of RMI's Image Campaign to promote a positive image of manufacturing in Maryland. Telling the stories of those championing manufacturing helps others learn about the vibrancy of Maryland manufacturing today.
RMI received Champion 280 nominations from every county in Maryland and Baltimore City in the following nomination categories: Community Engagement, Emerging Leaders, Energy & Sustainability, Growth & Productivity, International Business, Manufacturing Technology (Industry 4.0), STEM Student Advocate and Talent Attraction.  The RMI Nominations Committee chose the top 5 Champions who best exemplify these important categories that promote the true image of Maryland Manufacturing, highlighting the creativity and spirit embodied in today's Maryland manufacturing ecosystem.
At the Gala, we will honor the Champions, Maryland counties, their newest manufacturing companies, and Aris Melissaratos, this year's Grand Champion of Maryland Manufacturing Aris Melissaratos.
---
Date: November 29, 2018
Time: 5:00 PM to 8:00 PM
Address: Martin's West 6817 Dogwood Rd Windsor Mill, MD 21244