Bowie has grown from a small railroad stop to the largest municipality in Prince George's County, and the fifth most populous city and third largest city by area in the U.S. state of Maryland. In 2014 CNN Money ranked Bowie 28th in its Best Places to Live in America list.
The city of Bowie owes its existence to the rail industry and has been a hub of commerce and economic development for more than 150 years.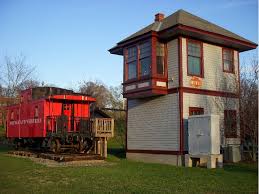 In 1853, Colonel William Duckett Bowie obtained a charter from the Maryland legislature to construct a rail line into Southern Maryland. In 1869, the Baltimore & Potomac Railroad Company began the construction of a railroad from Baltimore to Southern Maryland, terminating in Pope's Creek. The area had already been dotted with small farms and large tobacco plantations in an economy based on agriculture and slavery. In 1870, Ben Plumb, a land speculator and developer, sold building lots around the railroad junction and named the settlement Huntington City. By 1872, the line was completed, together with a "spur" to Washington, D.C. and the entire line through Southern Maryland was completed in 1873.
In 1880, Huntington City was rechartered as Bowie, named for Colonel Bowie's son and business partner Oden Bowie, the former Governor of Maryland and then-president of the Baltimore & Potomac Railroad. In the early days the land was subdivided by developers into more than 500 residential building lots, to create a large town site at a junction of the Baltimore and Potomac's main line to southern Maryland, and the branch line to Washington, D.C.
---
Date: October 16, 2018
Time: 4:00 PM to 8:00 PM
Address: 15901 Excalibur Rd, Bowie, MD 20716