ENGAGE + ENJOY
Come on out and join us at the new Diamondback Garage Incubator in the Discovery Zone at the University of Maryland.  
We are stoked to be rallying with our Startup Maryland co-founder Julie Lenzer (UMDs first Chief Innovation Officer) as she and her stellar team host the First Stop on the 2019 STRT1UP Roadshow at their new Diamondback Garage Incubator in tandem with WeWork and Capital One Tech Incubator.  
Special Thanks to STRT1UP Roadshow Premier Sponsor: the Maryland Department of Commerce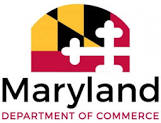 We will do a mini Angel Academy session and UMD student and alum will then climb on the Startup Maryland bus to do their 2-4 minute video pitch of their ventures.  If you are interested in learning more about the entrepreneur Ecosystem at UMD contact Sameer Iqbal Popat via email at spopat@umd.edu for Discovery District or Christopher Rehkamp via email at crehkamp@rhsmith.umd.edu for the Smith School of Business Dingman Center for Entrepreneurship.
---
Date: April 11, 2019
Time: 7:30 pm to 10:00 pm
Address: 7777 Baltimore Ave., College Park, MD 20740